Commissioning & training
With your decision in favor of a Heesemann sanding machine, you have made the right choice and have placed your trust in the manufacturer with the greatest experience.
To be able to use your new grinding machine to the full extent, we recommend that you have your new Heesemann put into operation by our qualified technicians. We accompany the start of production and, if desired, also train your employees. The training courses take place immediately after commissioning and around 3-4 weeks after the start of production.
Contact us! We would be happy to create an individual commissioning and training package for you. 
Spare parts & maintenance
Only original is optimal.
You can rely on Heesemann's service and spare parts. Because there is nothing better than the original for an excellent sanding result.
All services, maintenance offers as well as spare and wear parts can be obtained directly from us at greatly improved conditions. We pass on directly to you the volume discounts that we as a manufacturer receive from our suppliers. For example, you can get the original sanding trimmings and disc brushes from our long-term partner FlexTrim directly. Only the combination between high-performance grinding units and these high-quality brushes result in an excellent workpiece.
For maximum machine availability:
In order to reduce any downtime of your Heesemann machines to a minimum, we offer an extremely high availability of original spare parts. These meet the strict requirements for functionality and service life and are either manufactured directly in our company or by selected suppliers we trust. Original Heesemann spare parts do not differ from the parts installed in new machines. They therefore offer perfect product safety, maximum machine availability and ensure that your Heesemann will retain its value over the long term.
And since we know how durable a Heesemann is, we of course also have spare parts for much older generations of machines available.
Loyalty pays off: The Heesemann bonus program
Depending on your service orders over the course of one year, you will receive a staggered bonus that will be credited to your account.
Contact us! You will be surprised how cheap the original can be.
Virtual service
Problem solving in real time.
Even small error messages or application mistakes can mean that your grinding machine is not ready for operation. It can often take hours or even days until a service technician is on site due to long distance and lack of availability. This may result in a very costly process to fix this! However, this can be avoided – with the virtual solutions from Heesemann.
Heesemann Virtual Service Solution enables fault diagnosis and problem solving in real time. The only thing you need is a smartphone or tablet. This allows you to send to us a live image of the particular area of concern, and together with our technicians we analyze the situation online, identify sources of error and guide you step by step to the solution. Markings on the screen or transmitting documents during this virtual session is a straightforward approach. This means that our service staff is available for you practically at any time, thus minimizing your downtimes.
The Heesemann Online Service Package offers another solution. After establishing a secure connection between your system and our repote service experts, we  can view all relevant data of your machine. With this connection between machine and Heesemann, our technician can diagnose processes and change necessary settings without being on site – even while production is running.
Your advantages:
System diagnosis in the event of machine malfunctions
Optimization of the machine and program parameters
Minimizing downtimes and increasing efficiency
Quick problem solving, thus higher reliability
Optimal support for your operating and maintenance staff
Cost reduction for service and maintenance
Software updates, program or function extensions are carried out online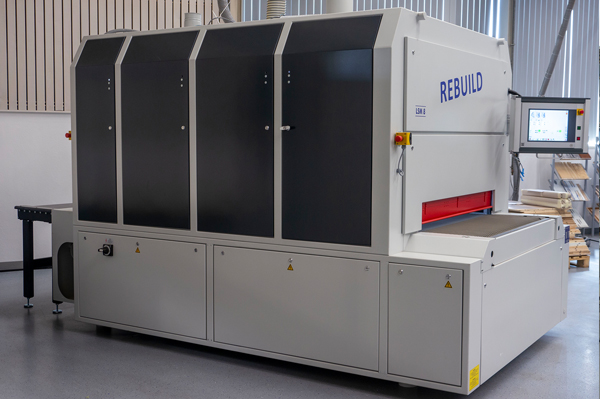 Machine upgrade
It doesn't always have to be a new machine. But nobody except you should notice that.
Heesemann grinding machines are an investment that will last forever. Machines that have been in use by our customers for 30 years or more are not uncommon at Heesemann. Even if these machines would run for many more years, a "fesh look" may be a good investment for these machines. Almost new also works: Heesemann Rebuild.
You can choose the degree of renewal at Heesemann Rebuild: everything is possible, from replacing individual elements such as obsolete control systems up to a complete general electrical and mechanical overhaul of your Heesemann.
Your advantage: You gain production reliability of your machine for many more years by minimizing the risk of a total failure.
Our service team will be happy to provide you with further information on conversion times and costs for your individual  machine configuration.