Ground surfaces – perfect finish with profiRounder by Heesemann
Parts that need a sanded or brushed surface finish – mostly stainless steel or aluminum – are often purchased pre-grinded and covered with protective film.
It only becomes difficult when the finish has to be on both sides, because laser cutting is not an option for sheet metal with foil on both sides. It is also often perceived as problematic when unusual material thicknesses require a finish, because then delivery times can be very long. As a result, many sheet metal fabricators want to be able to produce a surface finish with their deburring-machine.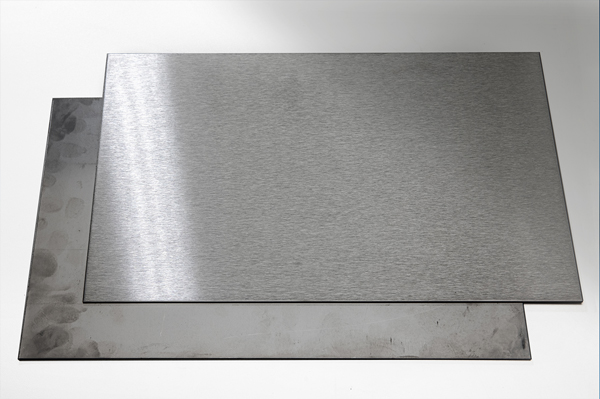 Contact roller units (wide-belt-units) for finish grinding
Since the vast majority of deburring machines have a unit with a contact roller, this can be implemented relatively easily.
If the contact roller unit is prepared to a correspondingly fine abrasive, it is well suited to create decorative, sanded surfaces.
However, the finish grinding is generated at significantly higher feed rates than it is the case when deburring. While the feed rate for deburring is usually between 1.5 – 3 m / min, surface grinding takes place at 8 m / min and more.
As a result, the sheets that need a finish (often only a few percent of the total production) are passed through the machine a second time.
If the customer does not want to change abrasives or wants to grind in the same pass, then another broadband unit with contact roller is integrated into the machine as the last or penultimate unit.
Very fine surfaces with fleece brushes
Particularly in the case of machines for the food industry and in commercial kitchen technology, very fine surfaces with correspondingly low roughness are required. Fleece brushes are particularly suitable here, because they take the "tips" after grinding and in this way refine the surface very efficiently.